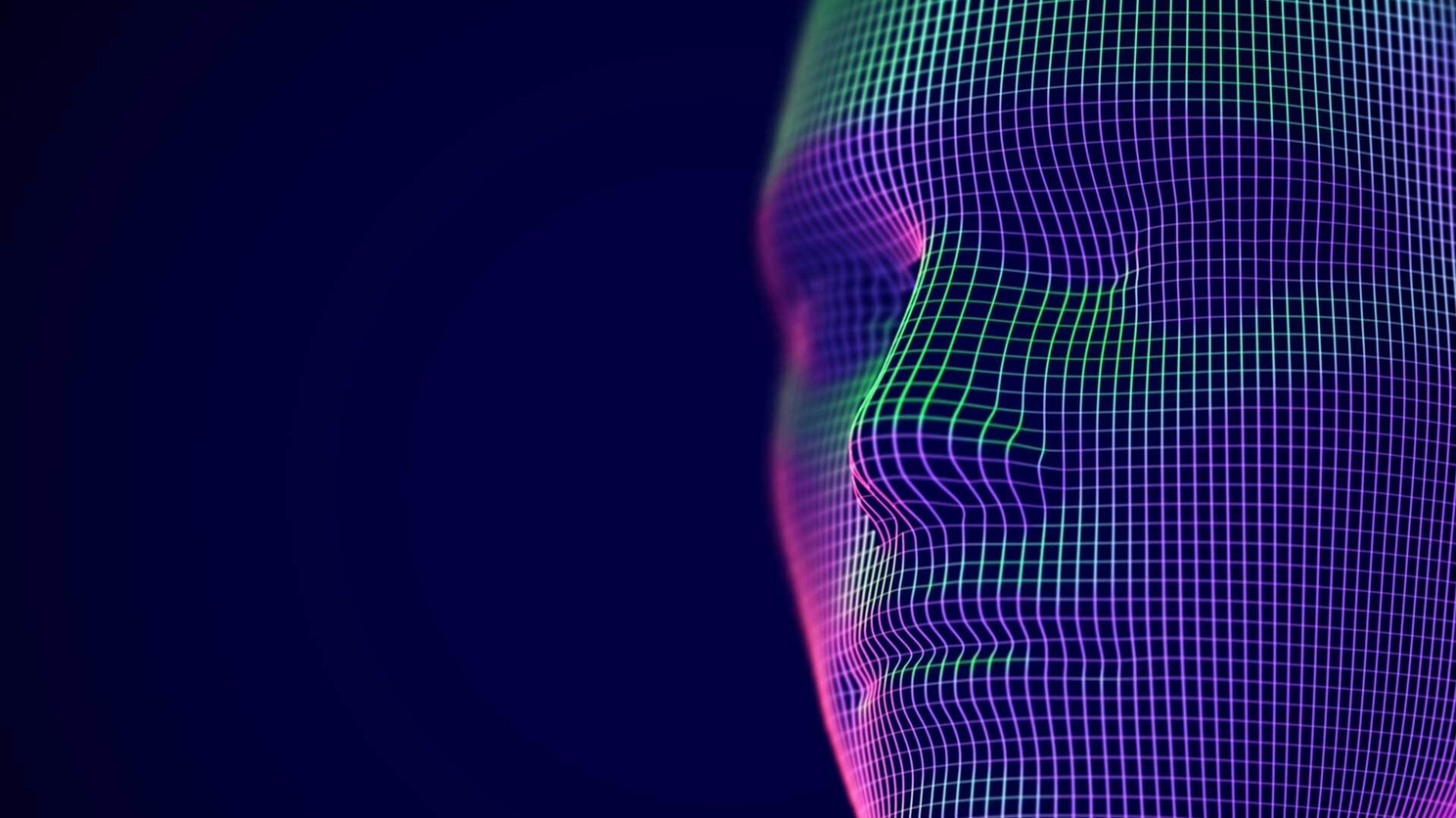 Why you need the Lawyer of the Future, Today
18min
The challenge
We live in a "VUCA" world – Volatile, Uncertain, Complex and Ambiguous. This is driven by numerous social, economic, political, demographic and commercial changes – and turbocharged by technological change. Things happen faster now than they have in the past – much faster – and the rate of change in the business environment is increasing exponentially.
Whilst to date the legal industry has been relatively sheltered from the dramatic changes impacting other industries, like it or not, the industry is facing a tsunami of change from multiple sources. These forces of change include new and emerging technologies (like AI, automation and big data analytics), new or rapidly evolving practice areas (like data privacy and cybersecurity), new and increasingly unpredictable changes in the regulatory environment (reflecting changes in community expectations) and new legal industry entrants and business models.
Importantly, these forces of change also include the rapidly changing expectations of in-house lawyers driven by internal customers.
Customers seek lawyers who not only provide great legal advice, but who understand the business, collaborate effectively and help them achieve their goals. In addition, lawyers need to help the 'bottom line' by working more efficiently and effectively and continuously improving and innovating how they work.
The Lawyer of the Future
Technical excellence represents only the starting point of what is required for the future. The lawyer of the future will increasingly need a much broader range of capabilities that shift from technical advice towards value creation for the business.
The well-known lawyer competency models ("T shaped", "O-shaped" and "Delta model" lawyers) reflect this shift towards more multi-dimensional lawyers who are better equipped to work collaboratively, efficiently and effectively with the business and with each other to create value.
In the past the role of the lawyer has largely been to provide the best legal analysis when called upon for a legal matter. Tomorrow, the role of the lawyer needs to evolve to be focused on helping the business identify and capture opportunities, whilst still providing the best legal analysis and advice.
The most successful lawyers today already display this broader capability set, with strong business knowledge and personal effectiveness which enable them to work collaboratively, effectively and efficiently with customers and add real value to the business.
Your challenge is to build the lawyer of the future, today, as a source of competitive advantage.
However, building the lawyer of the future requires significant and sustained effort and effective leadership. As with all change, leaders need to actively plan and drive lawyer development and lead from the front by role modelling these more expansive skillsets, mindsets and behaviours.
The Lawyer of the Future model
In order to thrive in a VUCA business environment and create value for the business today and in the future, lawyers need capabilities spanning three dimensions – legal knowledge & skills, business knowledge & skills, and personal attributes & effectiveness – all enabled by a transformational mindset.
These capabilities are encapsulated in the G+T Innovate "Lawyer of the Future" model shown below. The model combines elements reflected in the well-known and researched competency models (mentioned above) with G+T Innovate's own research, experience and point of view. These capabilities, like the business environment, are not static – they need to continuously evolve to meet the ever-changing demands of the business.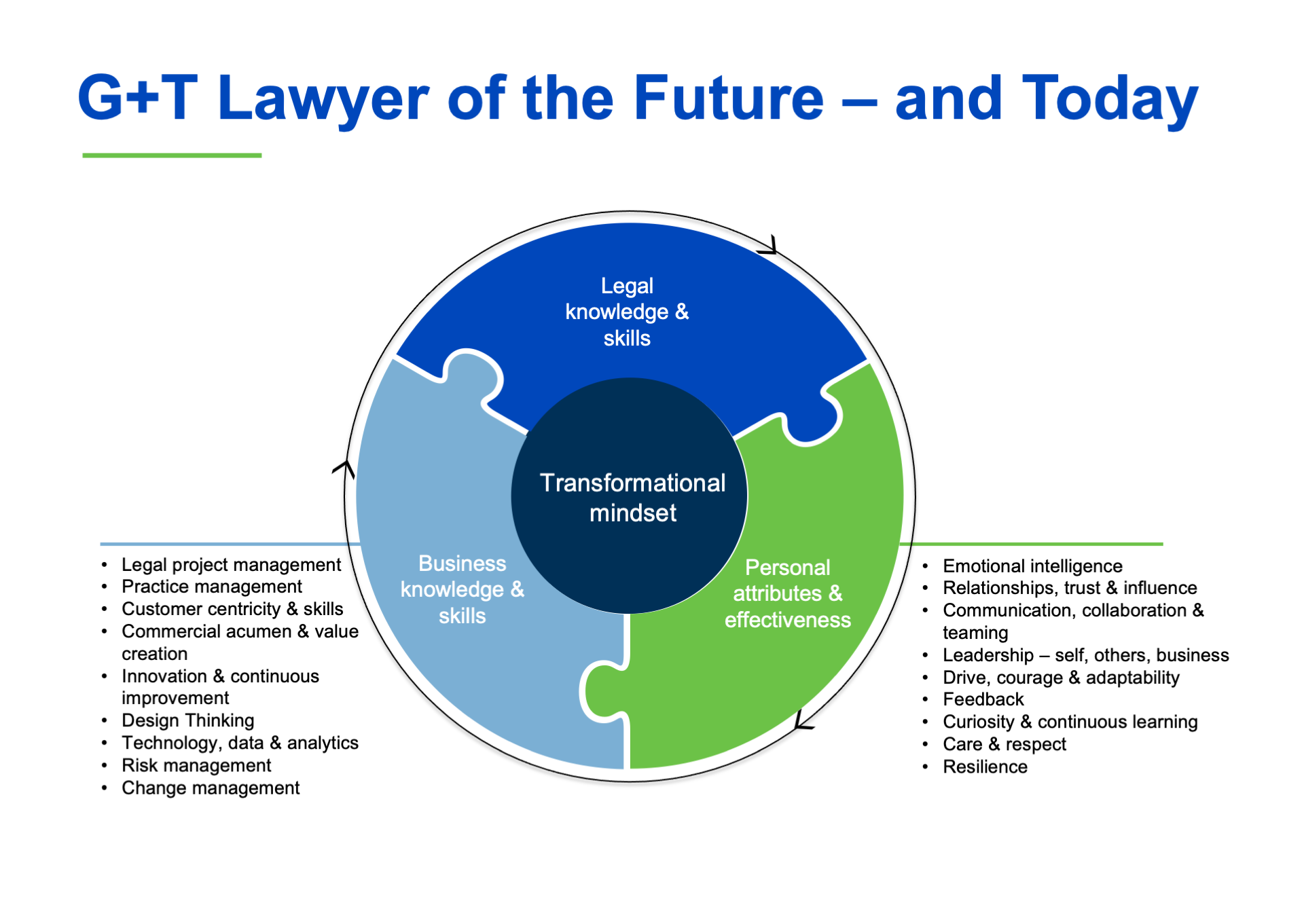 Legal knowledge & skills: The foundation
Legal knowledge and skills will always be the foundation of success for lawyers and it will continue to be important to continuously improve and evolve these in line with changes in the law, regulation and customer and community expectations. Legal teams need to maintain, and in fact increase, their efforts to build this core capability whilst at the same time building broader capabilities which enable core legal knowledge and skills to be put into action in the most effective way.
Business knowledge & skills: Creating value is the goal
The ultimate goal of in-house lawyers is to create value for the business. Do your lawyers see themselves as technical experts solving legal problems, or in this broader sense?
In-house lawyers create value in two ways. The first way is to support customers to achieve their goals. This requires lawyers who have a deep understanding of and empathy for their customers and what they are trying to achieve, and how they can best collaborate with them to achieve their desired outcomes.
Key to this is commercial acumen, which requires an understanding of the ever-changing business environment, the business' strategy, the business' customers, how the business creates value, what their customers are trying to achieve and how they can contribute to success in a proactive way.
Helping customers to achieve their aims also requires the right behaviours to be able to work effectively and collaboratively with them. Part of the lawyer's personal effectiveness includes proactively keeping the business up-to-date on relevant legal developments and implications as well as putting forward ideas to improve how the business operates considering new legal developments. In this way the lawyer's work needs to become more proactive and creative in order to become a true trusted advisor to customers.
The second way that lawyers create value for the business is by improving the efficiency and effectiveness of how they work as an individual and as a legal team. This includes practice and project management, the application of the principles of design thinking, continuous improvement and innovation in ways of working, and effectively leveraging technology.
Personal attributes & effectiveness: Behaviours are the enabler
Effective personal behaviours enable legal and business knowledge and skills to be applied in a way that helps the business get results.
Effective interactions with customers, stakeholders and within the team underpin the achievement of goals. Emotional intelligence, leadership skills, communication and collaboration skills, influencing skills and the like help create mutual understanding and trust and strong relationships which enable high performance.
Attributes and skills like drive, courage, curiosity, adaptability, care, respect and resilience enable sustainable high performance and improvement both as an individual and as a team.
In our work helping in-house legal teams to transform, we have the opportunity to conduct comprehensive quantitative and qualitative analysis of how legal teams operate and, importantly, what internal customers want and need.
Excellent legal skills are taken as a given. What customers really want are lawyers who collaborate better, respond and execute faster, are more decisive, more proactive, more in touch with non-legal matters, more forward-thinking and more innovative. In other words, they want the legal team to move from the traditional advisory role to a more forward-thinking, customer-centric and solution-oriented partner to the business.
Mindset matters – Transformational mindset
In 2006 Professor Carol Dweck, an American psychologist, published her well -known book "Mindset: The new psychology of success" based on rigorous research on children's learning and development. Dweck found that we all have different beliefs about the underlying nature of ability. Children and adults with what Dweck called a "growth mindset" believe that intelligence and abilities can be developed through effort, reflection, persistence, trying different strategies and learning from mistakes. Dweck found that at the heart of the "growth mindset" is a passion for learning rather than a hunger for approval and fear of failure.
G+T Innovate's point of view is that to face into the challenges presented by the VUCA world, lawyers need to not just grow, but to continuously transform how they think and work. This means that lawyers need to develop not just a "growth mindset", but to extend it further and develop what we call a transformational mindset. The transformational mindset is an individual's confident belief that their abilities and talents can continue to grow even in a VUCA environment where change is constant, rapid and often uncomfortable.
The lawyer with a transformational mindset is willing to step out of their comfort zone and commit to the process of learning and growing, and believes that they are capable of doing so even in a VUCA world. They are curious and want to continuously adapt and evolve. This is coupled with a self-belief that if they keep focused on learning and growing they will learn so much they can transform who they are and what they are able to do.
Research shows that lawyers as a group tend to be cautious, reluctant to take risks, sceptical, reserved, mistrustful, are afraid of making mistakes and fear failure. Whilst these can be great strengths when delivering excellent legal advice, they also represent a challenge when developing new skills, such as effective collaboration and leadership which are often outside their comfort zone. Consequently, many lawyers actively avoid stepping into new growth opportunities where there is a risk of criticism or failure. Developing a transformational mindset enables the lawyer to be "comfortable being uncomfortable" and to step into these kinds of learning opportunities confident that they can transform how they work.
What's the bottom line?
In summary, in order to address the many challenges posed by the rapidly changing business and legal environment, today's in-house legal teams need:
Multi-dimensional lawyers with transformational mindsets and capabilities spanning multiple dimensions, who actively embrace change, innovation and personal learning and growth;
Leaders who role model improvement, innovation and transformational mindsets and actively help their teams learn and grow;
Lawyers who work effectively and efficiently with customers and within the team to create value for the business in multiple ways, with excellent communication, collaboration and other interpersonal skills;
A culture of learning that values curiosity and invests in and supports continuous learning across a broad range of capabilities; and
A well-designed and structured approach to broad lawyer capability development, which includes both "on-the-job" learning through active feedback, coaching and role modelling, as well as formal "classroom" learning interventions.
Whilst lawyers typically get excellent legal training at law school, the reality is that they receive little or no training in broad business knowledge and skills or how to be personally effective. As discussed above, building these broader knowledge and skills are critical for future success and building them requires a significant degree of sustained effort and investment. Putting in place a well thought-through capability development initiative early to continuously develop broad lawyer capability in a structured way is a key building block for success today and tomorrow.